These Chicken Enchilada Zoodles are easy to make, full of flavour, and low carb! Best of all, this recipe takes less than 30 minutes to make!
Note: This recipe was first posted on my original blog, Celebration Generation, on Februry 12, 2020. It was transferred over to this blog - existing comments and all - on 9/27/2021
This dish is so simple to make, it's almost not even a real recipe.
When I'm making it, I don't measure things - I just eyeball the amount of sauce, top it with a handful of cheese, sprinkle olives on.. Whatever.
It comes together incredibly quickly and easily, AND it's low carb!
The secret to the ease - and flavour - is the use of a premade sauce - La Costena's Green Mexican Sauce.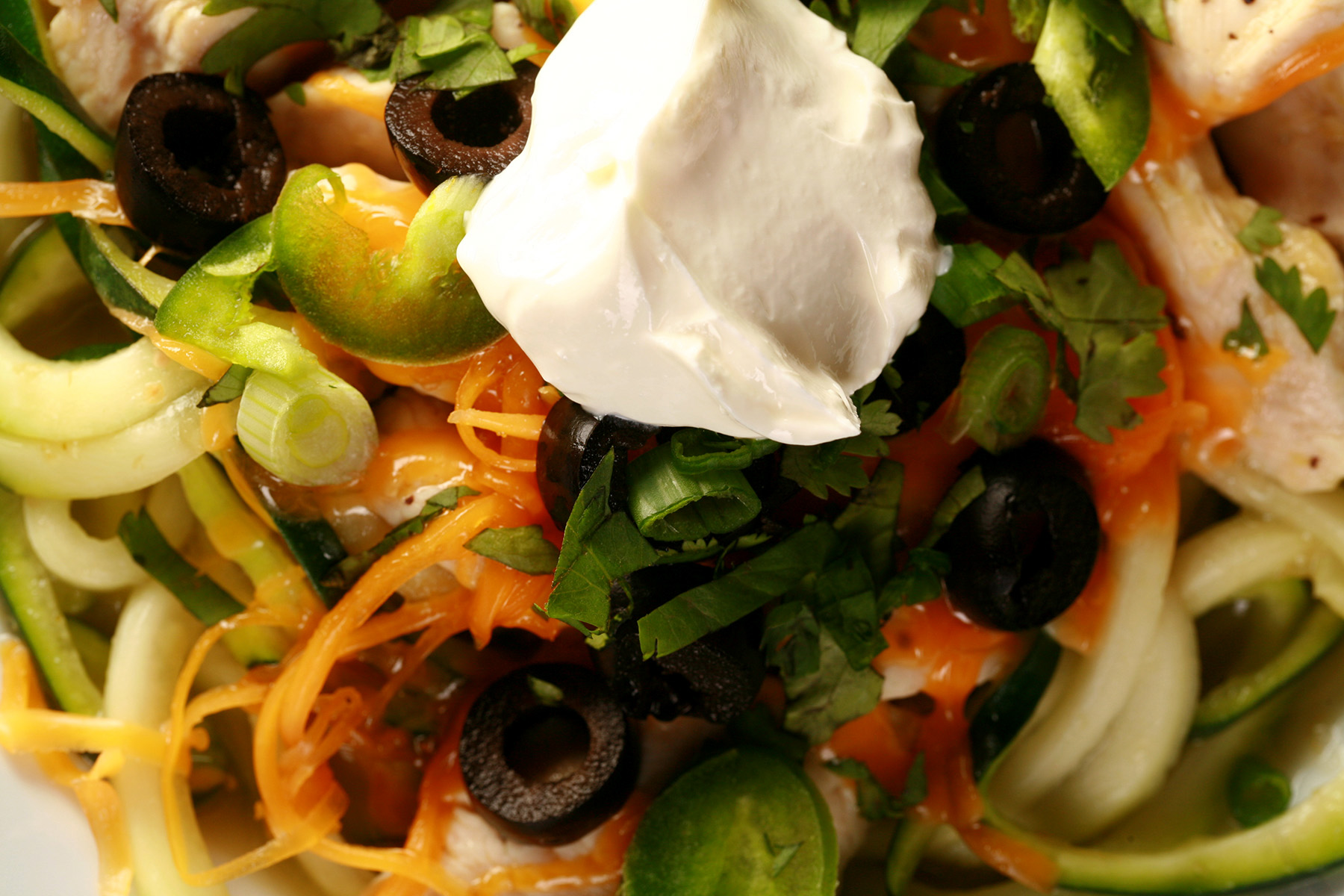 Green Mexican Sauce?
We happened across it in a local grocery store a few years ago - I think our first time was in a small can - and instantly loved it.
It was full of flavour, and seemed to have a more concentrated flavour than any salsa verde I'd ever had... but it might just be a salsa verde?
I see that the same brand sells a salsa verde that looks the same... in the US listings. I haven't seen it here. I wonder if it's just branded differently here? I don't know.
I do know that it's fabulous stuff, though.
While we use this particular brand fairly exclusively for this recipe (there's another brand with a white label that we'll use in a pinch), you can use any salsa you'd like.
Or, you know, actual enchilada sauce, if desired!
Zoodle Making
You may have already read of my love of zoodles in the posts or my Low Carb Peanut Chicken Zoodles or my Singapore Mai Fan Style Zoodles.
Zoodles are spiralized zucchini noodles. They're each to make, low carb, and inherently gluten-free!
If you cook them right - just enough to warm them through, not enough to make them mushy - they have a fantastic texture, too.
It's a great way to have a pasta-type dish and a big dose of veggies without a ton of carbs.
The key is to get a good spiralizer - but "good" doesn't have to mean expensive.
This one is the one we have - no complaints at all!
Our first one had sort of a conical shape, and it was terrible - so equipment really makes a huge difference. Be sure to read reviews before buying one!
Other than that, I like to pick zucchinis that have a fairly big diameter, and use one of the thicker noodle blade panels.
Skinny zoodles are far more prone to turning to mush!
How to Make Chicken Enchilada Zoodles
Full recipe follows, but here's a pictorial overview!
Prepare your garnish ingredients - chop your cilantro, slice some green onions and jalapenos, grate some cheese, and drain the black olives.
Arrange on a plate for easy access, set aside.
Make your zoodles, using a thick noodle setting.
Trim chicken breast, if necessary. Slice into bite-sized pieces.
In a medium-large nonstick pan, heat olive oil. Add chicken to the pan, season with salt and pepper. Cook until chicken is browned on all sides.
Add zucchini and sauce to the pan, toss to coat.
Cook for 2 minutes or so, just until the sauce is hot and zucchini is heated through and slightly softer.
Transfer chicken and zoodles to serving bowls.
Garnish with shredded cheese, black olives, jalapeno slices, sour cream, cilantro, and green onions.
Serve immediately
Share the Love!
Before you chow down, be sure to take some pics of your handiwork! If you Instagram it, be sure to tag me - @LowCarbHoser - or post it to My Facebook Page - so I can cheer you on!
Also, be sure to subscribe to my free email newsletter, so you never miss out on any of my nonsense.
Well, the published nonsense, anyway!
Enchilada Chicken Zoodles - Low Carb
These Chicken Enchilada Zoodles are easy to make, full of flavour, and low carb! Best of all, this recipe takes less than 25 minutes to make!
Equipment
Ingredients
2

Small boneless skinless chicken breasts

or 1 large

Olive oil

Salt and Pepper

2

Medium zucchinis

Spiralized into thick "noodles"

¾

cup

Mexican Green Sauce

we usually use La Costena or

⅓

cup

Shredded cheddar or Monteray Jack cheese

¼

cup

Sliced Black Olives

Jalapeno slices

Optional

¼

cup

Cilantro

finely chopped

2

Green onions

thinly sliced

Sour Cream
Instructions
Trim chicken breast, if necessary. Slice into bite sized pieces.

In a medium-large nonstick pan, heat olive oil. Add chicken to the pan, season with salt and pepper. Cook until chicken is browned on all sides.

Add zucchini and sauce to the pan, toss to coat. Cook for 2 minutes or so, just until the sauce is hot and zucchini is heated through and slightly softer.

Transfer chicken and zoodles to serving bowls.

Garnish with shredded cheese, black olives, jalapeno slices, sour cream, cilantro, and green onions.

Serve immediately
Nutrition
Calories:
307
kcal
|
Carbohydrates:
13
g
|
Protein:
31
g
|
Fat:
14
g
|
Saturated Fat:
5
g
|
Trans Fat:
1
g
|
Cholesterol:
92
mg
|
Sodium:
1138
mg
|
Potassium:
1171
mg
|
Fiber:
3
g
|
Sugar:
4
g
|
Vitamin A:
1465
IU
|
Vitamin C:
42
mg
|
Calcium:
192
mg
|
Iron:
2
mg